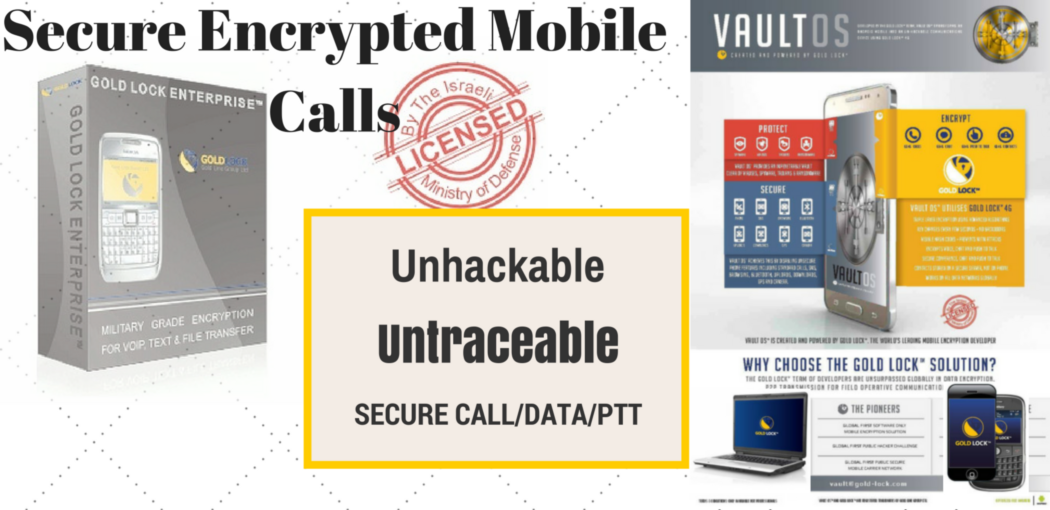 Licensed by the Israeli Ministry of Defense, Gold Lock 3G is a world-class software-based solution providing military-grade encryption for voice and data communications.
Gold Lock's triple layered security scheme turns your PC/laptop, Nokia phone or Windows mobile device into a military grade encrypted communicator, protected against any interception attempt by private, governmental or military entities.
You can depend on Gold Lock 3GTM to instantly encrypt your calls, file transfers and text messages even when making International calls. No VOIP provider is necessary. Protection is provided across all methods of Internet access including 3G, EDGE, GPRS, WI-FI and more. Plus, Gold Lock 3GTM is easy to use and the keys are auto- managed with no user intervention required.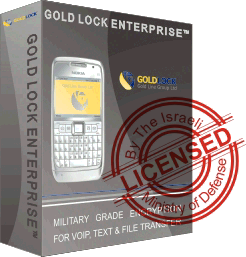 If you're not protecting your vital communications, you're transmitting financial, business and personal information in the clear. This opens you and your organization up to infiltration by criminals including industrial spies, kidnappers, terror organizations and other entities that do not have your best interests at heart.
GOLD LOCK PBX Gateway
END TO END ENCRYPTION FOR FIXED PHONES/VOIP PHONES
Utilizes the same encryption algorithms as the MOD certified Gold LockTM 3G
Easy to use – Simply dial an extension to establish a secure call
A single Gold LockTM PBX can be used for an entire location
A clear voice indication of when a secure call has been establish
Non secure communication with standard devices not affected
Gold Lock Secure Switch™ was built for military & corporate organizations with the highest of security needs.
It is a completely self-contained system that can be installed and operated independently on customer-defined equipment and is administered via a web-interface with strict admin authorization policies, enabling the user complete control on all aspects of the system including installation, deployment, provisioning, monitoring, and upgrades for both client and server components.